Menareslaves - Beg for it
Run Time 6
Size 63 MB
Resolution 1280 x 720 px
It's been a very long time since the slave has been allowed to cum. So, Sophie decides to bind him to the dungeon table and use her body to torment the poor slave. She
casually strokes the slaves penis and stops, puts her boob right in the slaves face and makes him beg for pleasure. 'Would you like to touch my ass?' she sweetly asks.
'Beg for it' she then sternly says. The slave must learn that he must beg for any pleasure. Sophie acts so sweet yet so horribly cruel as she keeps the slave on the edge.
'Would you like me to finish you off?' she so sweetly asks as she strokes his penis. 'Beg for it!' she commands again, and the slave begs and begs as best he can. 'I feel so
sorry for you, you haven't cum in so long' Sophie teasingly adds as she kindly gives the slave pleasure by stroking his cock. 'Beg louder' she adds, demanding that he grovel
for any attention. 'Keep on begging otherwise I'll stop', those words from Sophie send the slave into a a begging frenzy. Sophie wickedly looks at the slave, loving her total
control of him. Damn she looks so hot! 'Say 'Mistress please' a few more times and I might just allow you to cum' she says. 'You ready to cum?' Sophie asks the slave, and
the slave is so ready! All of a sudden she stops and says 'I don't think we'll let you cum today, maybe next week.'. Denial yet again for the poor slave! 'See you later slave'
are Sophie's final words as she exits the room, the slave knowing full well that she'll be using him for her pleasure yet again later in the day.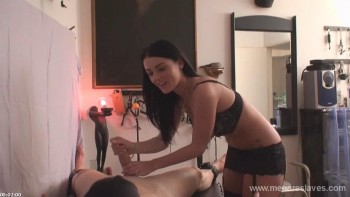 Download link:
http://fboom.me/file/cd9af2dfa00f2/TFJUL262.wmv