Jodi West - Mrs. West Demands to Stop Stroking Your Big Dick Mister
Run Time 4
Size 50 MB
Resolution 720 x 480 px
Mrs. West is shocked by how perfect her stepson?s cock is and needs to touch it! Mrs. West came home early from work and went to her stepson?s room to say hello. As she walked
through the door without knocking, she found her stepson jerking off. She immediately ordered her stepson, ?Stop stroking your big dick, Mister!? Then, as she was leaving the room,
she told him, ?Come see me after you father goes to work, we have a lot to talk about!?. Joey thought he was in deep shit and big trouble. But, why did she say ?big? dick, he wondered.
Did his stepmom really think that he had a big cock? Well, he figured he would find out in about 10 minutes when his dad left the house for work.
Joey made his way to his stepmom?s bedroom and walked through the door with his head hanging low. ?You?re not in trouble baby; I just didn?t want you to waste your load on the floor
when it could shoot all over me!? Joey?s jaw dropped. He couldn?t believe what his stepmom had just said to him and what was about to happen! He?s always thought Mrs. West was
hot and that his dad was a lucky guy for getting to bang her every night. Was it now his turn?
Mrs. West got up from her bed and threw Joey down onto it. She then sat next to him and grabbed his big dick through his pants. There he was, getting his cock massaged by his own
stepmom, in her bed. He couldn?t believe his luck. It was just then that she ordered him to remove his pants so she could wrap her MILF hands around his young and hard cock. Joey
was now getting a fantastic handjob from his mature stepmother and couldn?t believe how skillful her older hands felt around his dick.
Watch the entire stepmom and stepson handjob video and see just how far this taboo situation is going to go!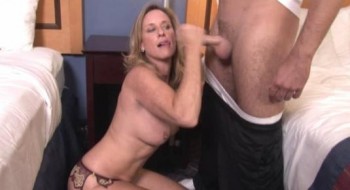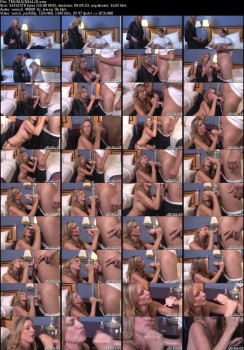 Download links:
http://fboom.me/file/6ecfa7c439abe/TMUMJUN161JO.wmv