La Bete / The [email protected] in Heat / The [email protected] (1975) [UNCUT]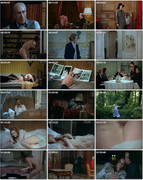 File:
Titles:
La Bete / The
[email protected]
in Heat / The
[email protected]
/ Death's Ecstacy / O Monstro / Odjuret / Das Biest / Bestia / A Mulher e... La Bete / La bestia / To ktinos / Peto / Pedon vallassa / Menneskedyret / La bete - Jomfruen og menneskedyret
Year:
1975
Categories:
Explicit Erotic Fantasy Horror Drama
Runtime:
01;38;34
Countries:
France
Languages (2 audio tracks):
1. Russian (VO) | 2. French
Directors:
Walerian Borowczyk
Cast:
Sirpa Lane, Lisbeth Hummel, Elisabeth Kaza
Under the condition that within six months from the death of the accomplished businessman Philip Broadhurst, his beloved daughter and heiress to his immense fortune Lucy gets married to Marquis Pierre de l'Esperance's son Mathurin, innocent fair Lucy heads with her aunt to the crumbling estate of her soon-to-be husband. But the once noble estate is nestled deep in the French dense woods, where centuries ago, a wild and ravenous supernatural
[email protected]
roamed the very forests driven by a raw and unquenchable lust for virginal unprotected girls. Before long, young Lucy completely unaware of the menacing legend and the strange rumours that cloud the family's name will begin experiencing appalling, yet sensually charged visions of an unprecedented vividness. Is there a bit of truth in the legend of the
[email protected]
of Gevaudan?
Video:
DVDRip, AVI, 640x400, 1621 kb/s
Audio (2 audio tracks):
1. RU. (AC-3, 2 ch, 192 kb/s) | 2. FR. (AC-3, 2 ch, 192 kb/s)
Size:
1,39 GB
Download FileBoom.me One Free Link
https://fboom.me/file/0692ad813ee53/LaBete.avi
Download HitFile.net One Free Link
https://hitfile.net/yJ4SNam/LaBete.avi.html